The dune grasses are combed with tender sun-rays and a tactility of melancholy in the day's final hours . It had been so lovely, the sand, the water, the cut grass smell, when time was plenty and the hours long. Now, life keeps clicking and ticking away like the steady grinds of an ancient clockwork, working a weaver's loom, pushing an engine, moving time. The world is a little older.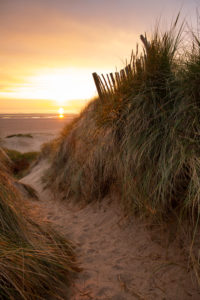 We went back to the dunes once more, but the sand was bereft of the day's heat, cold under our soles. When the sun set, the pastel hues were fading westwards, the grasses stalks highlighted briefly, just as it was when we splashed in the tidal pools and salt caked our shins from spray. The ocean beckoned still and we stepped closer to try and grasp a little of what was the essence of summer, now changed into something different, more herb, more spiced.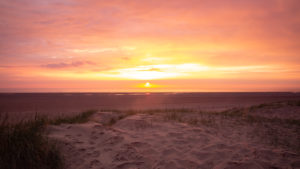 That last hot day the sun sets in full splendour, followed by a morning's cool awakening, that first dawn within the slope of the year when the mists coddle the spires and roofs of the valleys. The sunshine will shed its strength as its angle lowers and brushes our sky-turned faces with less conviction each day.
Night falls now. The sun's flames are taken away by the torch-bearers who seek the southern climates, across the sea, far away, past our summer's end.