Every autumn, at Martin mere near Burscough in Lancashire, the skies fill with thousands of wings of birds who choose the protected wetlands at the wildfowl preserve for their roosting grounds. Geese, swans and ducks meander through the skies, catching a late afternoon's light as silver on their wings
The landscape takes on the quality of a gilded age painting, subtle golds and copper tones
And the whooping swans herald their arrival in their deep singsong of a foreign language.
As the sun sets, the birds take off on an unseen, unheard cue, felt by them who are in tune to the signals reserved for the wild, but the air now stirs with the vibration of a winged exodus.
The birds move and meander to a director's queue.
The swan's solo on the water seems in honour of the setting sun, telling the world it was part of it and glad.
The light's brilliance lingers for a moment, caught in water and air.
The evening is infused with beauty, concocted by nature's hand. The last birds arrive before the fading light. Honking and singing, silhouetted shapes land on coloured water.
As the ball's orchestra gently glides into a softer song, matching the fading colours, now pastel and marbled, the birds settle down for the night.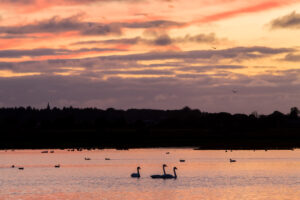 And so, at times we happen upon an evening where magic kisses the air, is reflected in the water, carried by the wind and the streams of air and colour, a free flowing circus for the birds and nature, and we can float along simply because we exist.