Cold nights and sunny days are the best of autumn weather. The leaves that still managed to cling to the trees and which only seemed rusty in yesterday's rain, were bronze in the morning sun. The fields were crystalline and the crunch under one's boot satisfactory. The sheep under thick, woolly coats assembled around the oak trees waiting for the thaw.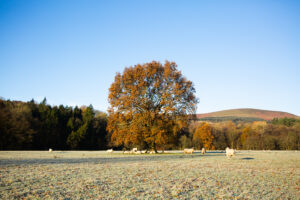 The light was strong and blinding, slanting across the fields of the Hodder Valley, reducing the landscape into an almost black and white scene.
These light conditions tempted me to switch to a monochrome approach all together, bringing forth the crisp detail frost is so sympathetic to.
Inside Gisburn Forest the thawing created a world more ornate than shop windows in Mayfair, lush and elegant, finest crystal, easily broken. I suppose it's almost winter.